"...the Test Experts Reading / Dyslexia Program helped me tremendously in my language arts classes."

The Test Expert's Dyslexia Program
The Test Expert's Dyslexia Program provides an answer to parents who are looking for help with their student's struggles in Language Arts.  Approximately 20% of the population has dyslexia, but this learning difference is often undiagnosed.  To learn more about dyslexia, please click here.  The Test Experts offers the gold standard for helping students with dyslexia.   Our dyslexia tutor offers 1:1 tutoring and uses specific materials to build your student's confidence.  We offer explicit, diagnostic, Orton-Gillingham, multi-sensory lessons to students of all ages.  Check out our affiliate company, Dyslexia Success, at www.dyslexiasuccess.com for more information.  
We screen for dyslexia and have lessons for young and older students.
For younger students, we offer multi-sensory lessons to engage your student and create lessons to enhance their knowledge of phonics, syllable patterns, and the etymology of words to promote decoding, word recognition, and fluency.  We also use decodable text for practice and to promote fluency.  Hayden creates individualized lessons for younger students and assigns homework. Students typically see significant results within 9 – 12 months. 
For older students, we offer lessons that exercise students' knowledge of words while enhancing their fluency and automaticity while reading.  Hayden offers a series of higher level materials geared towards older students.  She completes lessons with the students and assigns several lessons for homework to be completed throughout the week.  With older, more indepedent students, the work at home is very important in helping remediate in a timely manner.  Students typically see results in 6-9 months WITH completion of all homework.  With a scaffolding approach, we ensure that your child receives the remediation that he/she needs in order to make progress. 
This program is designed by The Test Expert's Instructor Hayden Angay, who is trained in the Orton-Gillingham method and holds a Graduate Certificate in Dyslexia from the University of Georgia. The Orton-Gillingham method is widely recognized as the premier dyslexia remediation method in the country.  To learn more about Orton-Gillingham, please click here.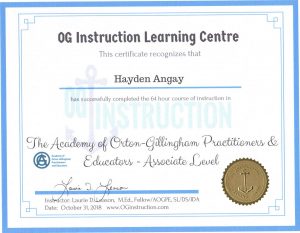 We also provide support in helping you navigate 504 plans and understand the tools to meet your child's specific needs in schools.  These accommodations help bridge the gap for students to meet their educational goals.  Furthermore, we offer support with ACT/SAT prep for these students.  The accommodations received in high school may be used for the ACT/SAT as well, and we can guide you on the requirements to obtain these accommodations for your student.   If you have any questions, please email hayden.angay@thetestexperts.com.  Let us tutor your child who has dyslexia!  We are located in Suwanee, GA.